WHERE FLEET MANAGEMENT HAPPENS

Available Packages
Select what works best for your fleet
---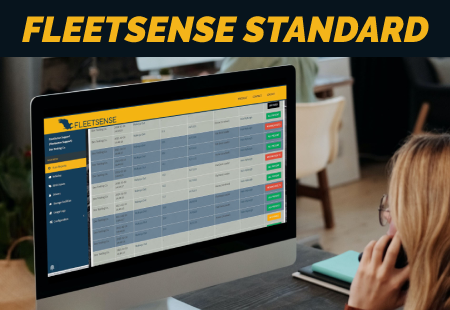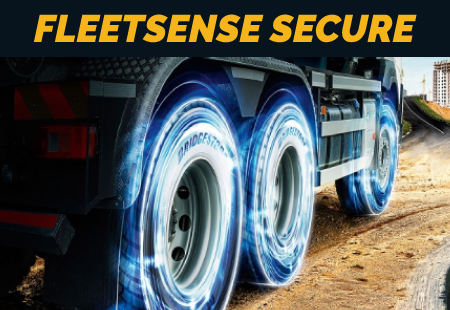 For companies who need a more reliable and secure form of tyre identification. Register a tyre with a tamper-proof RFID in seconds.

* DIGITAL INVENTORIES >
* TYRE INTELLIGENCE >
* TAMPERPROOF RFID TECH
* UNLIMITED SUPPORT
* UNLIMITED USERS
---
- From /tyre (bulk discounts apply)
---
- Android mobile device (self-supplied)
- Wireless tyre probe w/RFID ( ea.)
- RFID tyre tags ( ea.)
---
CALCULATE SUBS & SIGN UP NOW!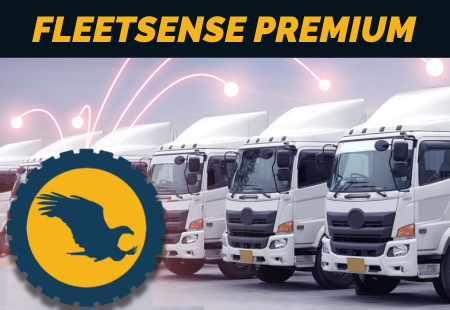 This is the best product to track and reduce theft on all your tyres and other equipment.
Moses Ndhlovu
Stores Manager
We are definitely starting to notice significant benefits with the system and experiencing better CPK's as a result. Well done Fleetsense 👏
Fleetsense makes it easier to differentiate tyre quality in various brands. Easy to use and very flexible. Very good system!
Kind Kaswaya
Stores & Procurement
If you want to track cost on any of your tyres, Fleetsense is the name!
Webster Chifuti
Accounts Manager
Truly easy working with Fleetsense. Everyone is extremely helpful and the location makes it really easy to find. The system is exceptional as well. Recommend them to anyone interested.
This system is well organised and saves money and time of fleet owners 👌👌👌
Manish Mudenda
Fleet Controller
Great product. Great support. It's all great. Highly recommended products for any type of transport business.
Nemanja Petrasinovic
Fleet Owner
This is a really helpful product to secure your company assets and make sure there are no cases of theft in your company. Plus it provides a user friendly experience for users.
Reagan Zimba
Fleet Controller
SYSTEM COMPONENTS
REQUIRED HARDWARE DEPENDS ON YOUR SELECTED PACKAGE
(Click picture for more)
---
Digital Inventories
The easy way to go paperless
(NOW AVAILABLE WITH OR WITHOUT RFID)
---
Effortless Inventories
---
It takes only a few seconds to register a tyre, with or without RFID tags, making the transition from paper based systems to Fleetsense easier than expected.

Our web app gives you a complete grasp of current inventories - tyres in use, in storage or in retreading facilities.
Data Import & Export
---
Our experienced support team will import your existing digital records into Fleetsense at no cost, for a seemless transition.

Fleetsense allows for easy export of all your data for secondary data processing, customised reports and presentations.
Staff Acountability
---
Fleetsense records usage logs for each transaction done from the web and mobile apps, registering the date & time, user name, type of transaction (new tyre, tyre moved, tyre scrapped, etc.) and in the case of mobile app usage, the GPS coordinates of the user at the time of the transaction.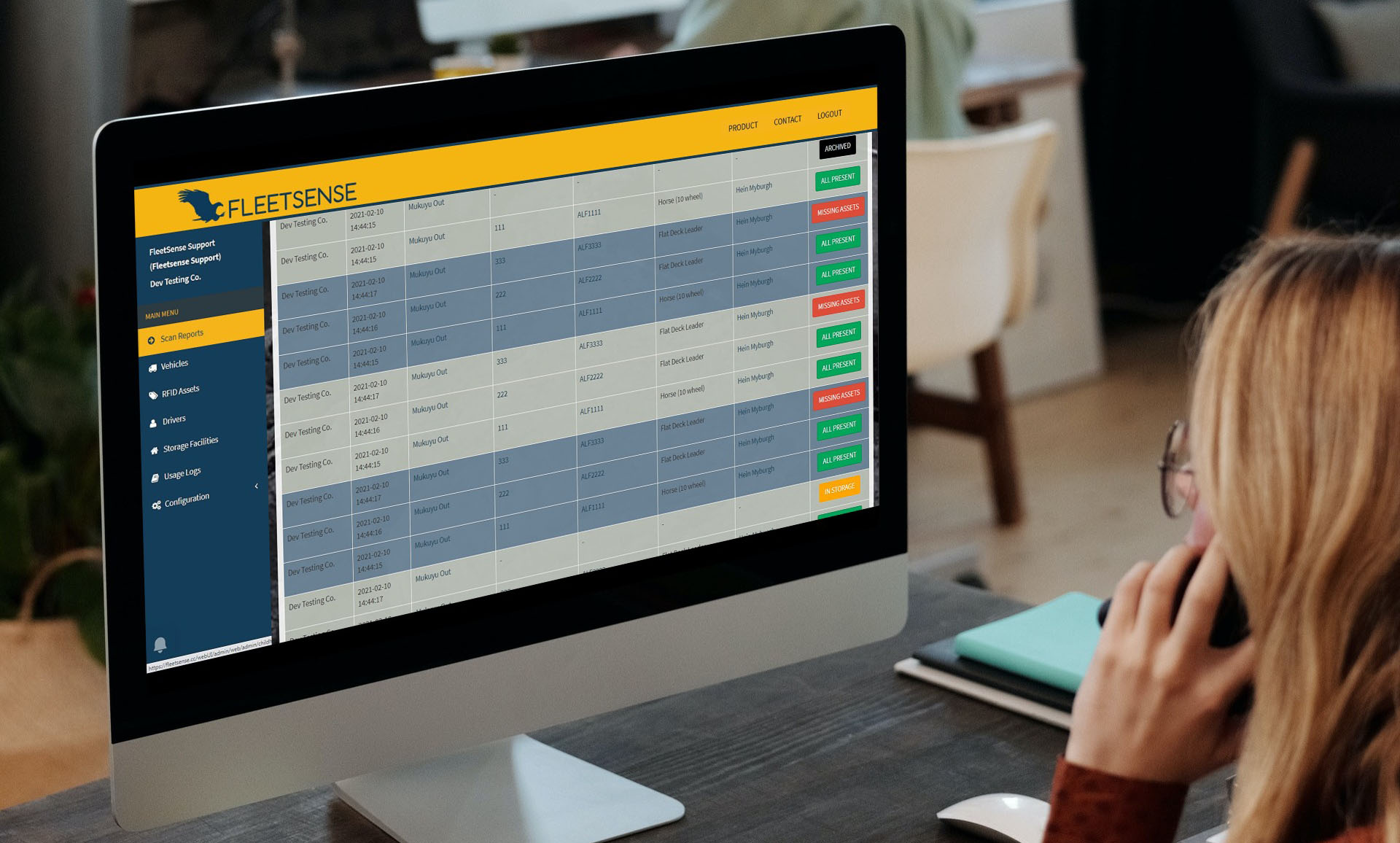 Fleetsense is cloud based, giving authorised users remote access to register, view, move and amend vehicles and tyres through the Fleetsense mobile and web apps.

Whenever workshop staff submit tyre measurements which are out of range, your fleet managers receive instant notifications detailing the relevant tyre and vehicle details. This allows for a great degree of pre-emptive maintenance.
All incoming and outgoing data between our web and mobile apps and servers is encrypted to protect your information and privacy.
TYRE INTELLIGENCE
Allow your tyres to collect all the data you need
(CLICK A THUMBNAIL FOR MORE)
---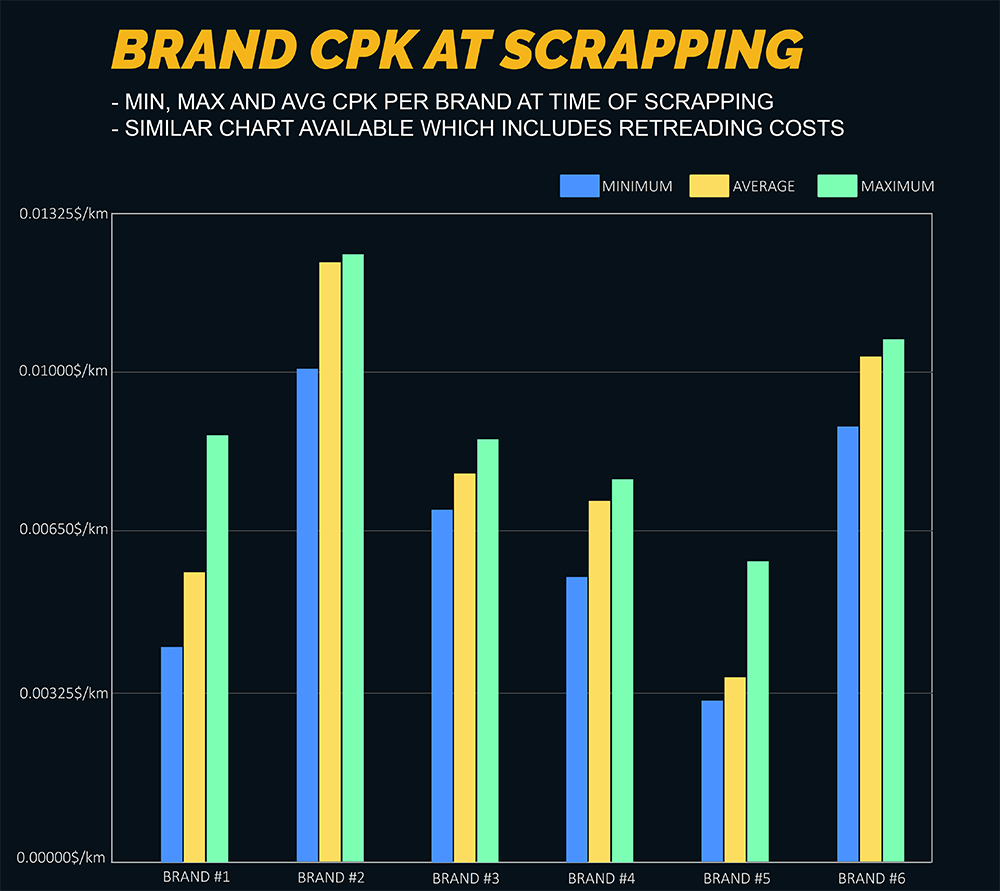 Cost per kilometer
Fleetsense connects in the background with your GPS tracking software to retrieve vehicle mileages on an hourly basis. Our algorythms calculate and apply mileage increases to every tyre in your fleet, regardless of location or movement between different vehicles. You enter casing and retread prices, and we do the rest. This chart shows actual CPK values for every brand in your fleet.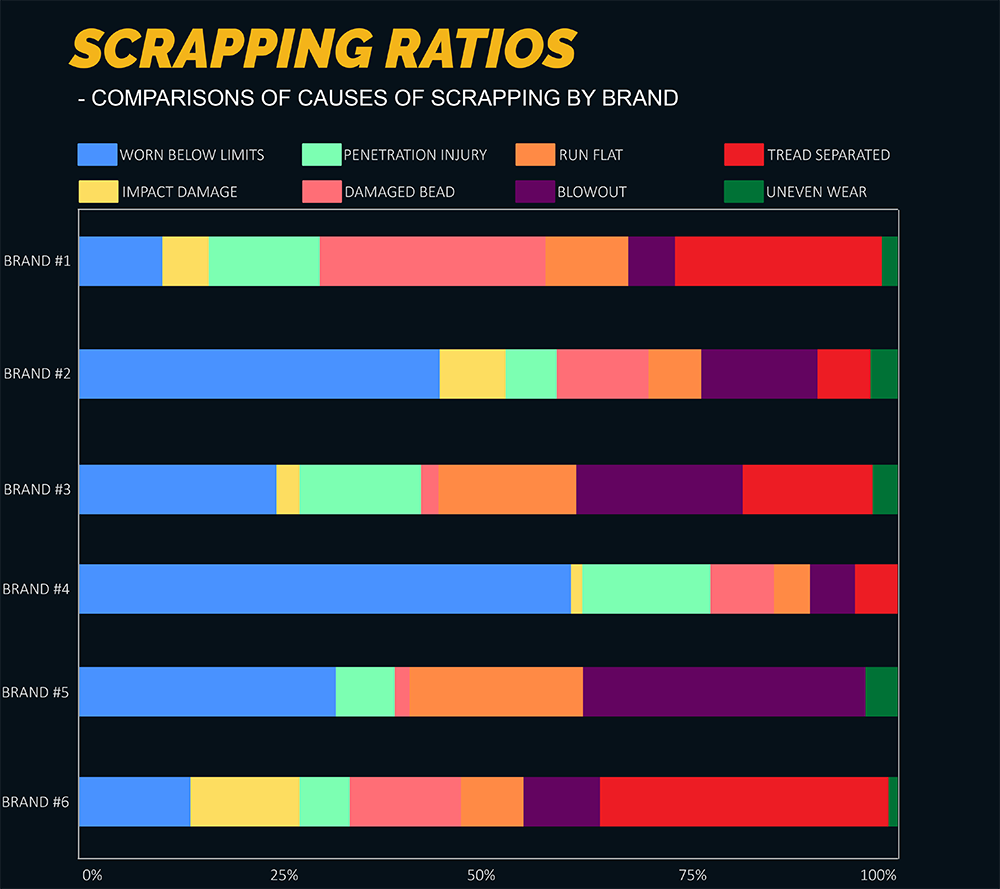 INSIGHTS ON TYRE SCRAPPING
Tyre scrapping is conducted with our handheld scanners or from the web-app. Photos are submitted for each scrapped tyre and a scrapping reason supplied. This data compiles into charts like these, highlighting scrapping ratios, and which casing brands deliver the best performance.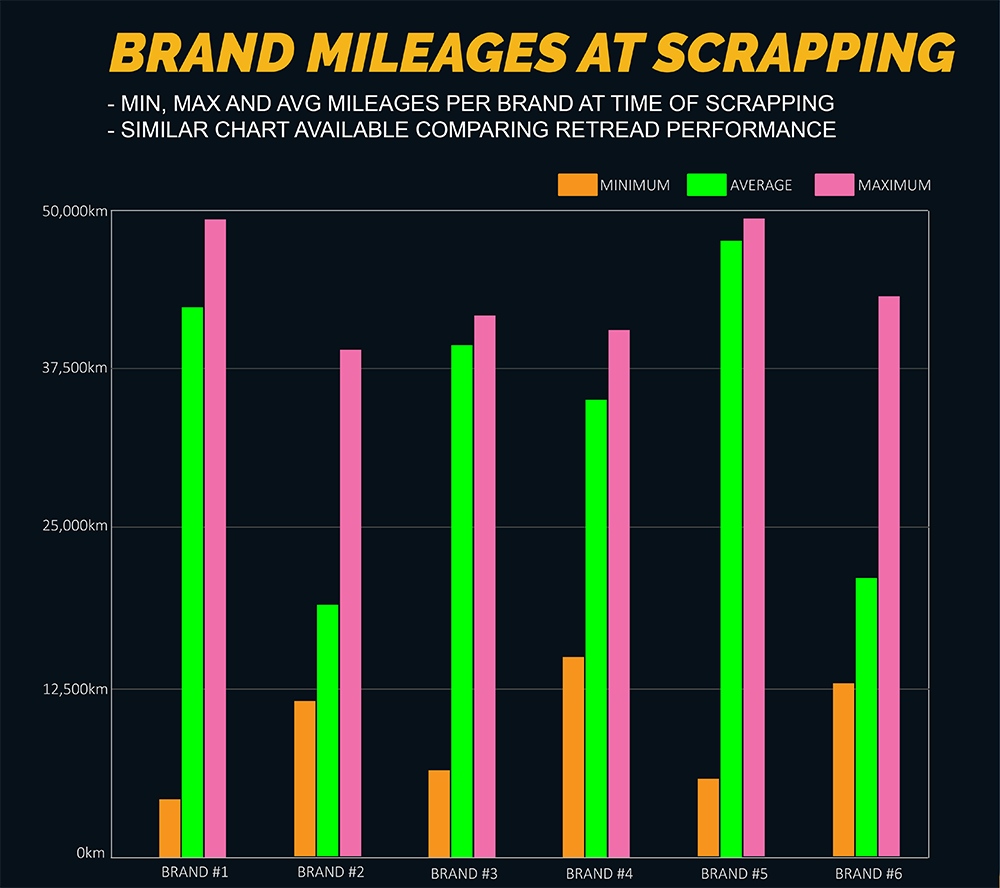 Casing Mileage Comparisons
A different way to view scrapping data, this chart allows the user to compare tyre lifetimes, not only between tyre manufacturers, but also between retreading facilities.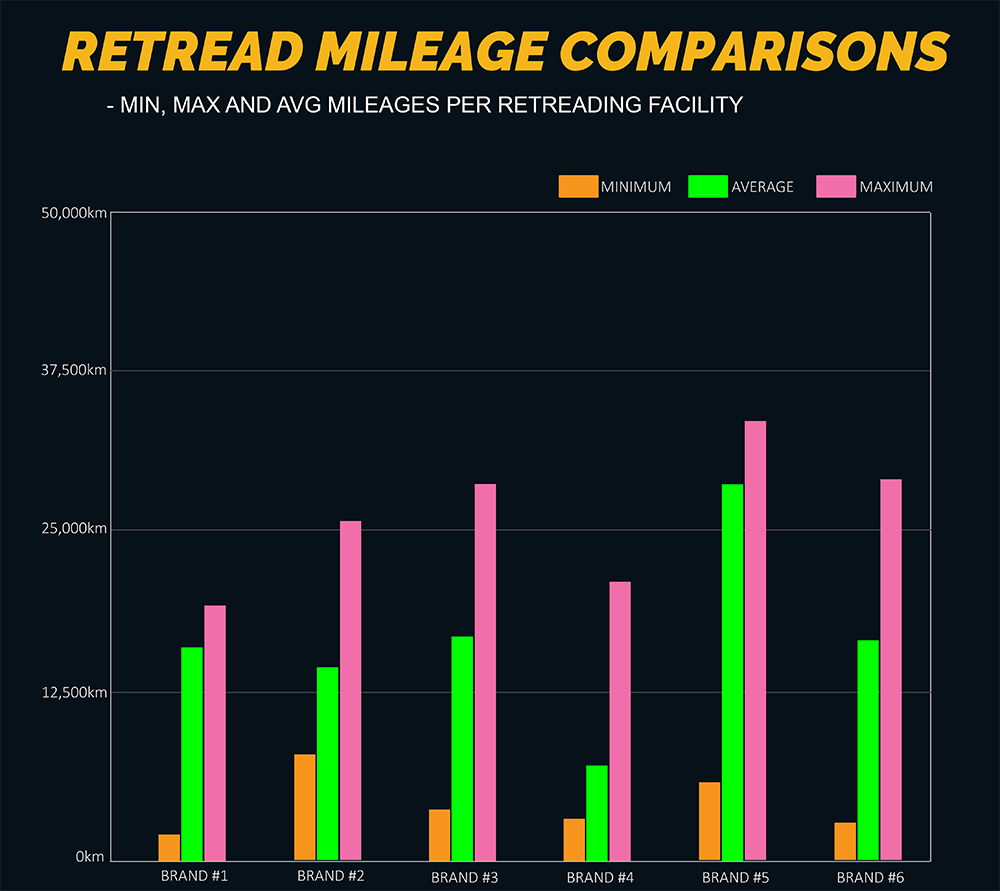 Retread Mileage Comparisons
The chart some retreading facilities don't want you to see. With this data you will know who to use and who to stay away from.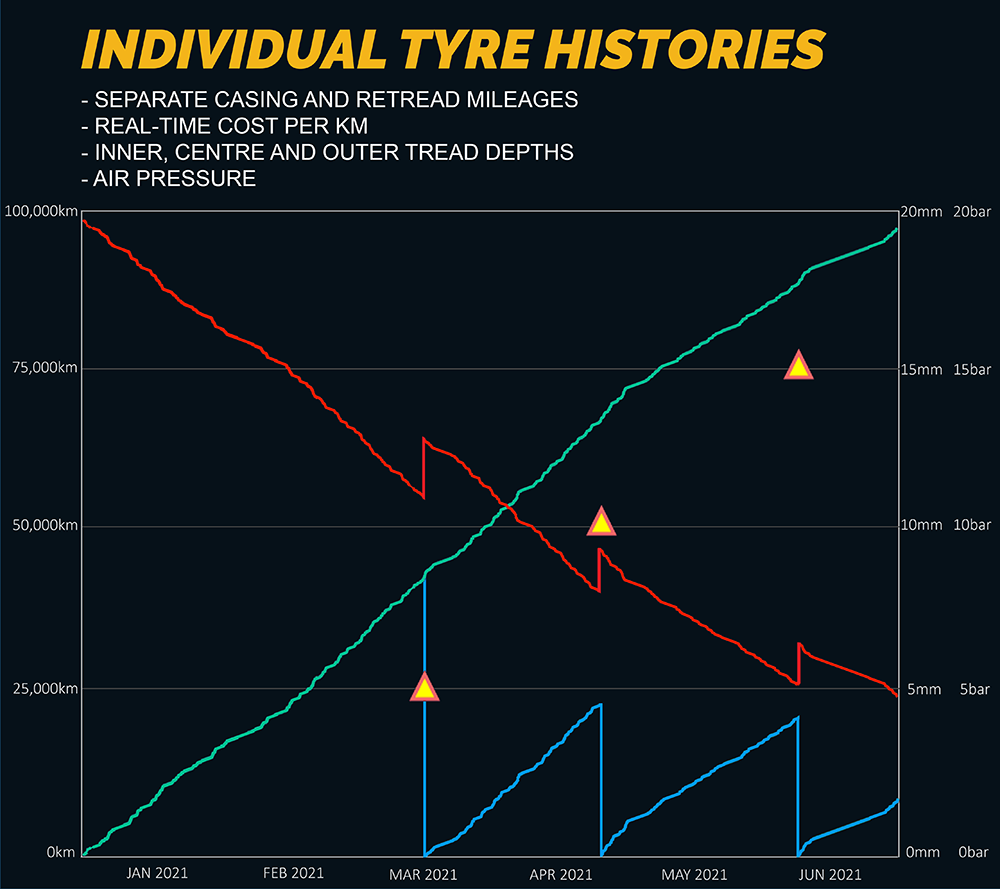 INDIVIDUAL TYRE HISTORIES
Each tyre in your fleet builds up a complete history which details real-time CPK, casing and current retread mileages, retread events, tread depths (outer, centre & inner) and air pressures. Charts do not have to be watched for anomalies, our system notifies you electronically whenever submitted measurements are out of range.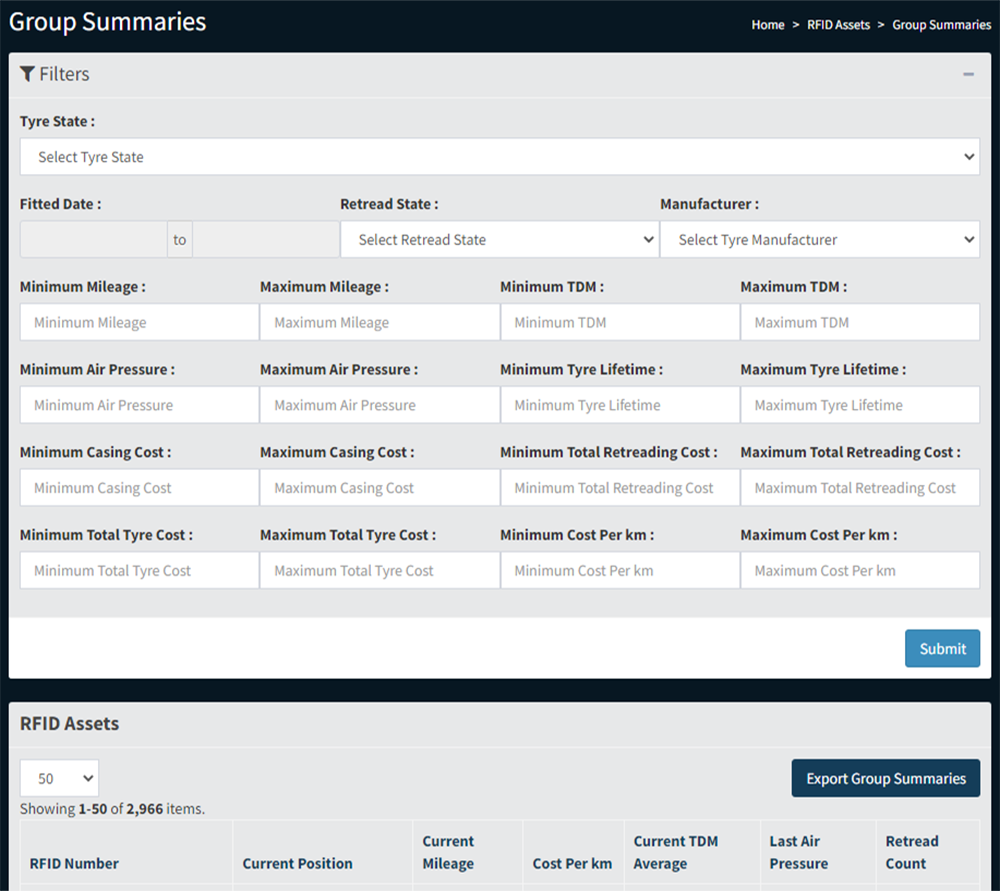 GROUP SUMMARIES
Compile custom reports within seconds using our intuitive group reports function. Select from a wide range of filters to compile a list of your desired sample list and export all data in .csv format for secondary processing.
Hardware Driven Theft Control
Reliable automated asset scanning. The end of manual checks
(Only available when RFID tagging is used)
---
---
Register vehicles & tyres
Once registered into your database, your vehicles and RFID assets are immediately on the radar for automated scanning, anywhere throughout SADC. Registration and chipping is done within seconds with our handheld readers.
Enlarge your vantage point
Install our fixed RFID stations at your yards and depots or make use of Fleetsense owned stations along major routes to improve your scanning footprint.
Automated drive-through scanning
A full asset scan is conducted whenever your vehicle drives through a Fleetsense fixed station. Our unique combination of hardware and software ensures reliable extraction of RFID data from every asset on every scan.
Real-time reports
Seconds after a vehicle passes through a fixed scan station a detailed scan report with a diagram of the scanned vehicle and attached assets is delivered to your user interface, showing which assets are present or missing. In case of missing assets an email alert is immediately sent to all relevant staff.
Get in touch
we would like to hear from you
---
Fleetsense is an unbiased management solution
We do not sell tyres, offer retreading or represent any tyre brands
Fleetsense simply gives you full control of your fleet's tyres.